In early 1940, efforts were made to continue playing, with a reduced fixture list of six to eight matches. In a letter to Club members the Treasurer referred to "the loss of so many regular members and to transport difficulties". Subscriptions were reduced to "a nominal one half of a guinea".
"Those present at the meeting sent their best wishes to all those members serving with the Forces, with the hope that the occasional re-union might be arranged during the war."
A fixture list was produced for 1940, showing eight fixtures. The scorebook shows that a number of fixtures were fulfilled. The last Romany fixture recorded is on 7 July 1940, against 45th Battalion Royal Tank Regiment, formerly the 7th (Leeds Rifles) battalion of The West Yorkshire Regiment.
The first post-war AGM was held at the Great Northern Hotel in Leeds on Monday 25 March 1946 at 6 pm. There were twelve members present.
"Before the meeting proper started the President asked all those present to stand in silence for a few moments as a mark of respect to the memory of Arnold Haslam, James Ogilvie, Ted Buckley and Philip Barran, who gave their lives during the War."
Each of Captain Haslam, Major Ogilvie and Major Buckley had played for Romany in 1939.
Fourteen letters had been received from members "expressing pleasure that the Club was restarting again after the War".
" … the Meeting agreed that pre-war unpaid subscriptions should be waived."
On 4 May 1946 The Romany resumed on the cricket field, at Ben Rhydding. The season culminated in an Intra Romany fixture at Alwoodley on 29 September 1946.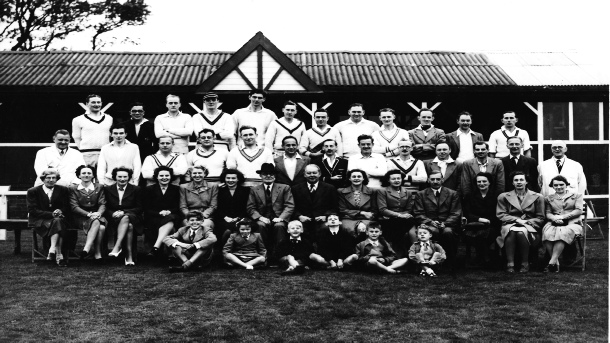 J V Howgate's XI v A Warner's XI (Intra Romany) at Alwoodley, 29 September 1946
G Mellor, F Dawson, O G Jones, E C Bousfield, P J Reynolds, R Robinson, F J Fullerton, R Elliott, J A Atkinson, ?, H G L Johnson, J Scholey
F J Ferneyhough, ? , P W Gale, A A Driver, A C F Warner, J V Howgate, R Warin, M Robinson, P Mylchreest, J P Wild, W M Wild, B Hare, Sgt Mjr Scruton
Granny Wild, Mrs I Howgate, Mrs Elliott, Miss B Robinson, Mrs A Johnson, Mrs E Bousfield, Col H D Bousfield,E Roberts, Mrs M Robinson, Miss J Robinson, Col A Glazebrook, Mrs M Wild, Mrs M Evans, Mrs Ferneyhough, Mrs M Evans
D Glazebrook, Miss Elliott, A Robinson, ? , P W Howgate, R Evans
The scorebook shows that A Warner and G Nettleton also played in this fixture – they are presumably the unidentified players on the back and middle rows, but the archives do not identify which is which.
At a particularly well-attended AGM at the Great Northern Hotel in Leeds on 18 November 1946, The President "congratulated all concerned on the successful reconstitution of the Club after the war and on its flourishing condition".
The 1947 minutes end with a vote of thanks to Barry (Hare) "for his loyal services as Club scorer over a long period". (The following year the minutes record that he had by then been scorer for 25 years.) It is remarkable to note that he continued in that role until his death in 1984.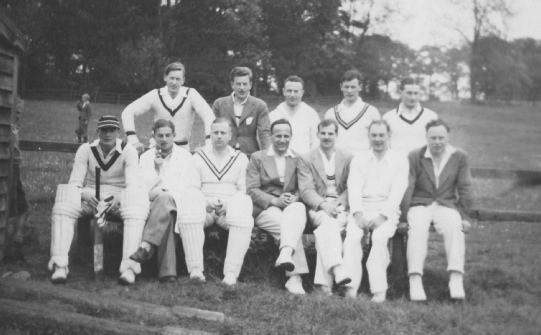 Whit Tour 1947
Richard Robinson, Michael Robinson, J Fullerton, Tony Leach, George Mellor, Eric Bousfield, Dick Hylton, Peter Gale, Hugh Johnson (?), Pat Wild, John Wood
The Club President by this stage was J C Spivey,who is shown as Captain in the earliest surviving fixture card (from 1911). He served as President for 25 years, until his death in 1955.
"After a lengthy general discussion on whether a Tour should take place and if so where and whether wives should be entitled to be included in the party and if so on what conditions it was eventually decided … that a Whitsuntide Tour should again take place preferably in the Thornton Dale area … And that all appropriate arrangements should be made by the Committee."
The minutes do not record what decision was reached as to the entitlement of wives.
The geographical spread of fixtures was by this stage rather different from the eraly years. The first four fixtures in 1949 were at Bolton Abbey, Blubberhouses, Ben Rhydding and Pateley Bridge. Fixtures were also played against HMS Ceres (a naval training establishment at Wetherby). The list had grown by now to 26 matches.
Although the minute books beyond this period survive, the last scorebook in the archives is that for 1949.