Prosser's 144
"It was hoped to be able to present to J H Prosser, the ball, suitably mounted, which was used during the Scarboro' College game at Whitsuntide, at which he scored 144 runs, but owing to the delay at the silversmiths, this presentation had to be postponed until during the season 1931."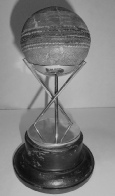 The silversmith did his job in the end. The original ball is still in the possession of the Prosser family, who have kindly provided the photograph to the left.
The innings of 144 was then the highest ever by a Romany player and remained so until W H Shucksmith scored 148 at Knaresborough Forest in 1977. Two years later, H M Read scored 173* at Burnt Yates. Those three innings remain the highest by Club members. The scorebook from 1930 remains intact, recording every one of Prosser's 144 runs.
Mention should also be made of the contribution made by (Reverend) E A C Buckmaster, his opening partner, who scored 95, in an opening partnership of 168.
The Romany started the 1931 season in style at Moortown, dismissing the home side for just 20 runs, no fewer than eight of the Moortown batsmen being out without scoring. The expression "without troubling the scorer" springs to mind, but the scorer must have been especially troubled mid-innings, having to record six successive ducks. Moortown were 6 for 7 at one stage. P G S Craig (5 for 2) and J H Prosser (4 for 14) inflicted the damage. P G S Craig and J H Prosser then opened the batting, no doubt hoping to complete the perfect ten wicket victory, but the former was out for 2, Romany winning by 9 wickets.
P G S Craig took 8 for 12 later in the season against Eltofts at Thorner and 7 for 11 against the Second Battalion West Yorkshire Regiment at Strensall a week later.
Reverend E A C Buckmaster appears fleetingly in the scorebooks of this period, especially on the Whitsuntide tour to Scarborough. In 1931 he scored 112 against Scarborough College. Oddly, the only other imprint of his life that comes readily to hand is a letter that he wrote to The Times on 10 October 1939 about the 3,000th cryptic crossword published in that newspaper. He mentions a clue from an earlier crossword that had impressed him greatly (Clue:- 'It is topping to kiss a monkey.' Answer: Apex). He finishes his letter thus: 'Bravo! Sir. Kindly carry on through the difficult days that lie ahead.' (From 'The First Cuckoo' (London, 1976).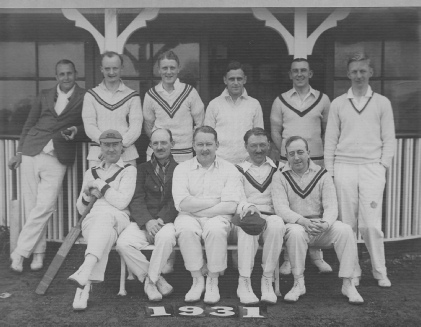 E Buckmaster, F H Wood, AA Haslam, J H Prosser, ?, B Hare W Bower, N Taylor, E Roberts, E C Hudson, A P Peaker
Missing accounts
"The Hon Treasurer's Report and Accounts were not submitted owing to the absence of W G Fitton, Hon Treasurer, from the meeting. A lengthy discussion took place regarding the absence of the accounts for 1931 and 1932 and the absence of W G Fitton, continuously from recent meetings, when requested to attend and produce the accounts. Letters were read from Mr Fitton … Where he stated repeatedly he had been unable complete the accounts, owing to lack of time and opportunity."
W. G. Fitton was duly "relieved the office of Hon Treasurer".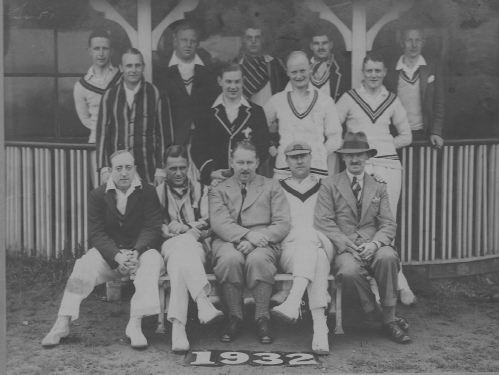 ? E M Hammerton J M Barwick J M Wild, B Hare
: ? ? F H Wood A A Haslam
A P Peaker J H Prosser E Roberts W Bower ?
Still missing accounts – and a case of pipes
A committee meeting was held on Wednesday 1 February 1933 at 26 Albion Street, Leeds, the offices of Bulmer, Lawson and Roberts, "by kind permission of Mr E Roberts". (The location is of no significance to anyone, other than the compiler of these notes. Bulmer, Lawson and Roberts subsequently merged to become Harrison Plackett and Bulmer, later known as Harrisons. In 1980 the compiler of these notes began his legal career as an articled clerk at Harrisons, at 26 Albion Street.)
W. G Fitton's non-delivery of the accounts was still causing concern:
"It was formally resolved … That the Committee acting on behalf of the Club, appoint a Solicitor for the purpose of demanding and obtaining all books of account,vouchers etc and a full statement of account, as from October 29th 1930 and a cheque for the balance (if any) as and when ascertained."
The words "if any" must have been added with some trepidation. There had clearly been a healthy balance in previous years. Col H D Bousfield was appointed on behalf of the Club to pursue the matter.
By April 1933, Col Bousfield had procured a cheque for "£5.10.3" from W G Fitton, representing the balance at the bank: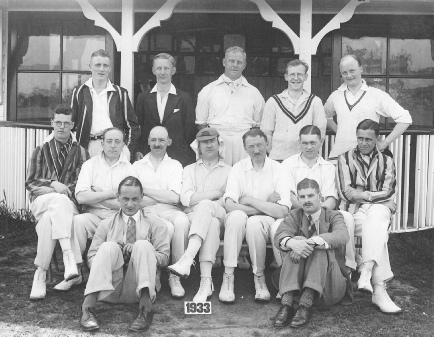 AA Haslam, B Hare, F M Hammerton, P Mylchreest, F H Wood
J M Barwick, A P Peaker, R N Taylor, W Bower, E C Hudson, R Elliott, J H Prosser
J V Howgate W M Wild
"The reason for the small balance being due to neglect in collecting subscriptions for 1932 and part 1931, by W G Fitton"
The 1933 AGM minutes record the final indignity for poor W G Fitton:
"The following being at least 3 years in arrear with subscriptions, were automatically struck off, according to rule: … W G Fitton [and twelve others]"
There departs W G Fitton from the archives – rather the hero (in absentia) of the 1930s minutes.
A letter was received by the Secretary (Mr N Taylor) from Percy Armstrong of Scarborough College, following the 1933 tour at which he was presented with a case of pipes "as a token of appreciation of many happy visits by members of the Romany CC". Percy Armstrong had been the head of Scarborough College since it opened in 1901.
A new cap, a new President and a new golf trophy
"A discussion took place on the colour and design of the caravan and it was agreed that the cap be dark green in colour, with a suitable caravan design on the front"
24 such caps were ordered. Some may still remain for sale.
A general meeting was called for 16 April 1934, "for the election of a new President of the Club, owing to the death of C F Tetley Esq." (Mr J C Spivey was appointed – he had a long association with the Club, having been captain in 1911.)
The records show that C F Tetley had been President from at least 1911 (and possibly earlier).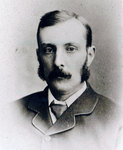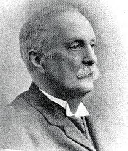 Charles Francis Tetley was the son of Francis William Tetley and grandson of Joshua Tetley, the founder of Joshua Tetley and Son. He was born in 1848 and educated at Leeds Grammar School, and at Harrow, and Trinity College, Cambridge.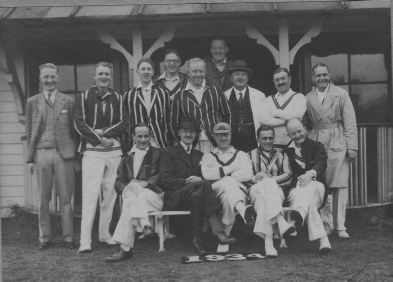 O M Telling, A H Longden
B Hare, A A Haslam, J Schidling, F M Hammerton, Froggatt, P Morris, E Buckmaster
J V Howgate, N Taylor, W Bower, J H Prosser, F H Wood
He became a partner in the brewery in 1877 and chairman of the incorporated company in 1902. He was elected to Leeds City Council as a Conservative in 1895 and served as Lord Mayor two years afterwards. In 1926 he was made a freeman of the city. He was prominent in many aspects of the city's life, especially its then fledgling university. For fifty years a member of its governing body, he made benefactions to the University of Leeds, and was awarded an honorary doctorate in 1922. He was also for fifty years a churchwarden of St Michael's, Headingley. He died on 25 January 1934 and was buried at Lawnswood cemetery.
The origin of Charles's association with the Romany Cricket Club is uncertain. He was a member of the Leeds Clarence Cricket Club (who played between the 1850s and 1880s) and was instrumental in the establishment of Headingley as a major rugby and football stadium.
From the AGM minutes:
"E Roberts kindly consented to present a cup for competition on the Whit Sunday at a Golf Tournament"
Not every member was there to witness this – the archives contain a rather splendid telegram of apologies from "Hugo" (J H Wood) – those were the days.
Edwin Chetwynd Hudson
"The Chairman (W Bower) referred to the passing, in the year, of E C Hudson, an old member and one who had given excellent service to the Club,as an officer and player."
The Yorkshire Post report of the funeral gives an interesting insight, showing connections through business with the well-known Romany name of Bousfield and the Territorial Army. Many Romany names appear in the list of mourners.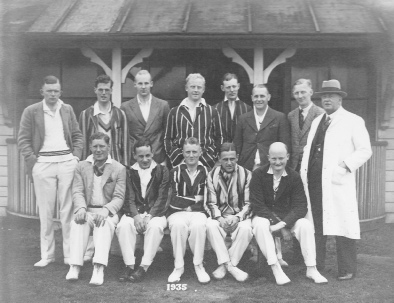 H E V Bennett, J M Barwick, B Gamble, FM Hammerton, R Keeping, F Buckmaster, B Hare, Froggatt
P H Barran, J V Howgate, A A Haslam, J H Prosser, F H Wood
"It was proposed by Mr E Roberts and seconded by O M Telling and after a long discussion carried unanimously that a circular should be sent to Public Schools and further that Messrs Roberts, Peaker and M Wild should draft the circular and should have full powers to act generally with regard to the motion."
One can only assume that this was a circular inviting fixtures against such schools and not some political diatribe on the private education system.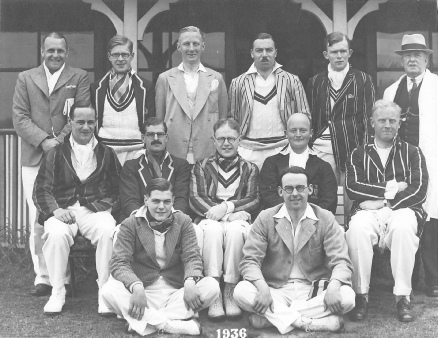 E Buckmaster, J P Wild, B Hare, P Morris, H E V Bennett, Froggatt
J V Howgate, W M Wild, O M Telling, F H Wood, F M Hammerton
J M Barwick, M Charlesworth
Ater a couple of years in which the AGM had moved from the Queen's Hotel to the Hotel Metropole, it reverted a few hundred yards to the "new" Queen's Hotel on Monday 6 December 1937. Notwithstanding this, a discussion was held at the AGM about the most appropriate hotel, "the preponderance apparently favouring the Great Northern Hotel" – the final decision was left with the Secretary.
H E V Bennett was appointed as Team Secretary for the following season. It seems that he was keen to make his mark at once.
"H E V Bennett proposed Froggatt's services should be dispensed with and that Scruton should be engaged in his place for 1938".
History does not record whether Froggatt had absconded with the tea money or simply given H E V Bennett out too often for his liking.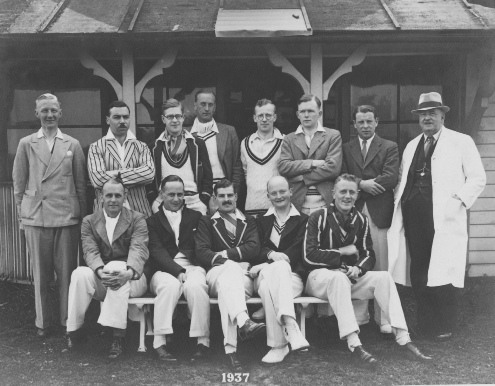 B Hare, P Morris, J P Wild, B Gamble, P Mylchreest, H E V Bennett, J Ogilvie, Froggatt
E Buckmaster, J V Howgate, W M Wild, F H Wood, A A Haslam
For some years the Club had had a Whitsuntide tour to Scarborough, based at the Pavilion Hotel.
"It was proposed by P Morris and seconded by P W M Mylchreest that the Tour Headquarters at Whitsuntide should be at The Buck at Thornton Dale instead of The Pavilion at Scarborough. There being no match in Scarborough now it was suggested that The Buck would be more convenient as well as being cheaper, a factor which would encourage more members to go on Tour."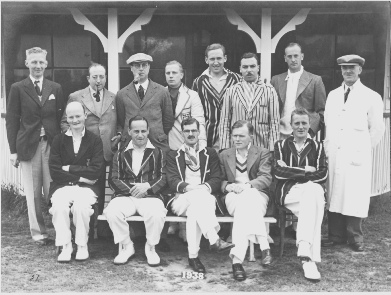 B Hare, A P Peaker, W Bower, P W Gale, A C F Warner, P Morris, B Gamble, s/Major Scruton
F H Wood, J V Howgate, W M Wild, H E V Bennett, A A Haslam
There is a poignant note in the margin of the 1939 minutes:
"Written up from notes 24 March '46. At War '39 – 45."
Those minutes end with a record of a vote of thanks to the Chair, proposed by A A Haslam. Captain A A Haslam died in Tunisia on 29 March 1943, aged 34.