Little is known about this period. No records appear to have survived – if any reader is aware of any, please contact the website administrator.
Later minutes of meetings refer to the "reconstruction" of the Club after the war years. Presumably there was little or no cricket during the war. We do know that the Club was up and running again at least by 1923.
The minute books for the period from 1923 to 1972 remain intact, as do a number of scorebooks, photographs and newspaper cuttings. Together they provide an invaluable insight into the club. Sections in italics below are (generally) extracts from the minutes.
Blazers, club colours and  caps
The first entry relates to a committee meeting held at 26 Albion Street in Leeds on 18 July 1923. There were five present, Messrs Roberts, Glazebrook, Aikman, Lupton and Taylor. There was evidently only one item of business:
"Further discussion took place on the Club Blazer question and owing to lack of support from the members the matter was dropped for the time being"
The Club colours have traditionally been red, green and yellow. A blazer in such colours would have been memorable.
The 1923 AGM was held at the Queen's Hotel on 10 October 1923 at 6 pm. Among other resolutions, quite formally recorded, was a change to "Rule No 2" (as to the number of committee members). It does at least seem therefore that there were then some rules – such rules have been lost in the mists of time.
It was also resolved:
"That the Cap, as worn by certain members of the Club, be adopted as the official cap of the Club"

"That the Annual Dance be held as hitherto …"
Practice, subs and ties
"Mr J A Lupton kindly informed the [committee] meeting that he would be very pleased if members would take advantage of the wicket prepared by himself at his residence, Lyndhurst, North Grange Road, for practice purposes."
There were 42 Club members, including Vice Presidents.
Subscriptions were one guinea. Ties cost 5 shillings and 6 pence. A proposal that a new pattern of Club tie be adopted was defeated on a vote, the "original tie" being preferred. No details are given as to the style in either case.
The 1925 scorebook is one of the earliest to survive. It opens with a fixture in mid-July against Sand Hutton. Other fixtures included visits to Whitkirk, Bradford and Clifford House.
B.Hare makes an appearance at Carleton on 1 August (caught Browm, bowled Whitehead for 0). Barry Hare was scorer for Romany for a remarkable 60 years up to his death in the 1980s.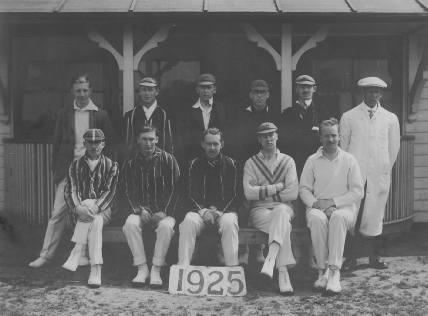 B Hare, G L Watson, S Aikman, E Mylchreest, N Taylor, Goucher Major Brooke, L C Bower, E Roberts, W Bower, V E R Blunt
Team selection and fixtures
"In view of the fact that it was often difficult for the Secretary to get together an XI on account of members not replying to their invitation cards, it was proposed by Mr Roberts and seconded by Mr Hudson that unless a reply be received by the Secretary by the first post on the Thursday morning previous to the match, the Secretary will endeavour to find someone to take the place of the member who has not replied."
"It was suggested to the Secretary that he should try to arrange fixtures with the following for next season:
St Peters School, York
Bootham School, York,
Giggleswick School,
Ampleforth College,
Stockeld Park
Eltofts, Thorner."
Scarborough tour and booklets
"The Secretary was instructed to write to the Cambridge Hotel, Scarborough, to reserve accommodation for the Whitsuntide Tour as usual."

"A suggestion was put forward that a list of member and the rules be combined in a small booklet and the Secretary was instructed to get a quotation for the printing of this booklet."
No such booklet has been kept with the archives.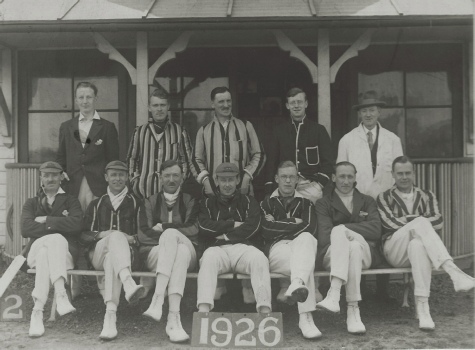 B Hare, V Blunt, Cole, P Mylchreest, Kelly N Taylor, G L Watson, E C Hudson, E Roberts, E Mylchreest, M Currer-Briggs, R B Hopkins
Practice at Headingley, donations and presentations
"It was also proposed and carried that the Winter Shed at the Headingley Ground should be engaged for practice on certain nights in the week for 3 weeks prior to the beginning of the season and that a pro should be engaged if possible."

"In view of the substantial credit balance Hopkins proposed and Cole seconded that a donation of Ten Pounds be sent to the fund for the provision of Playing Fields for the nation and that it should be earmarked for local cricket"

"In view of Mr Watson's century against Arthington it was proposed by Watson and seconded by Roberts to present him with a bat"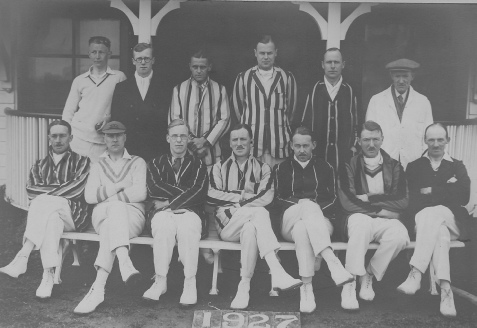 B Hare, P Mylchreest, J H Prosser, R B Hopkins, G L Watson, Kelly Major Brooke, W Bower, E Mylchreest, Cole, E Roberts, E C Hudson, N Taylor
Minutes of a committee meeting, held at the offices of Messrs Hudson, Sykes and Bousfield, record that:
"In view of the approaching marriage of the present Captain, Mr W Bower, it was proposed, in view of his long service and the arduous work put in by him, at the time of the reconstruction of the Club, after the War Years and the success he achieved in getting the Club going again,to make him a suitable wedding present from the Club.

It was proposed by Watson and seconded by Lupton, that an amount of £3 be allotted from the Club funds for this purpose and this was carried unanimously.

It was agreed that, as Mr Hudson could obtain silverware on advantageous terms, he and the Secretary should inspect some silverware and decide on a suitable gift. It was also left to them, to hand the gift to Mr Bower, on behalf of the Club."
On 23 June 1928 GL Watson scored 58 against Sherburn. The scorebook records that "a collection was taken for Mr G L Watson by the home team from local spectators and this amounted to 4s 10d and Mr Watson kindly presented this handsome sum to the captain of the Sherburn Club for the benefit of the Ground Fund". His generosity may have been tinged with guilt, as his innings does not appear to have been especially scintillating – 48 of his 58 runs were in singles.
Castle Howard
"Mr Roberts proposed and Mr Aikman seconded that, in view of his completion of 50 years cricket at Castle Howard, a suitable memento should be presented to Mr M H Smith, the Captain of the Castle Howard team, on our next visit to Castle Howard."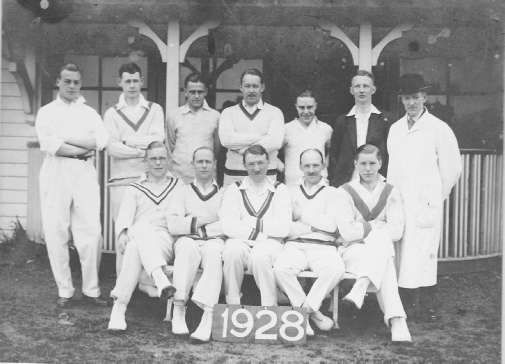 R Elliott (?), Park, J H Prosser, E Roberts, W G Fitton, B Hare, Kelly E Mylchreest, G L Watson, E C Hudson, N Taylor, P H Barran
Emmott Robinson (Romany coach), caps and ties
"A letter was read which had been received from Emmott Robinson, in connection with practices and coaching, in which he regretted he would be unable to help us this season, having been very ill most of the winter"
Emmott Robinson was evidently the pro that the Club had decided to seek, as mentioned in the 1927 minutes. He played 413 matches for Yorkshire between 1919 and 1931. He took 902 wickets and scored 9,744 runs in his first class career. Wisden published a tribute by Sir Neville Cardus following his death in 1969. His influence on the Romany team of 1928 appears to have been short-lived. Having won the first three matches of the season, Romany failed to win any match after 12 May. The Club paid £5 to Emmott Robinson's benefit fund in 1929. The 1932 minutes record that "the usual coaching fees be paid to Robinson and Mitchell, as previously". "Mitchell" was (probably) Arthur "Ticker" Mitchell,whose first class career spanned from 1922 to 1945, and who was Yorkshire's coach for many years.
"E C Hudson presented samples of new caps, scarves and ties, in new colours, and gave approximate prices for quantities and a lengthy discussion took place on same."
"E C Hudson proposed and W Bower seconded that caps be similar to those worn at present, but in the new shape. A Hollis proposed, E B Park seconded, that caps should be in green, yellow and red rings, with green peak, with no badge, and on a vote being taken, this latter type was carried"
" … it was decided to substitute the present tie by one in the new colours, the stripes to be narrower and of equal width."